Appreciating the "Golden Days"
Make no mistake, today's gear and jerseys are sick. They can be stylish for the players wearing them on the field, along with the fans wearing them off of it. We can't forget about the throwbacks, though! Some of the best jerseys in baseball history have not come from this decade, or even this century. Instead, the majority of my top 10 throwbacks came from the '70s and '80s. Without further ado, let's see the list!
#10: 1983-1991 Kansas City Royals Road
You'll see throughout this list that I have an affinity for the baby/powder blue color scheme. This is the first of 3 throwbacks featuring the baby/powder blue. The white, script font of the Royals works really nicely with it; if anything, I would've just liked to see a border to the font. Grab a mesh version of this at Mitchell and Ness ($81).
#9: 1977-1984 Pittsburgh Pirates Home
These feel like the Color Rush jerseys of Major League Baseball, and we all love some color rush. The Pirates wear these even now occasionally, and for good reason. Not only do they bring fans back to a year in which the team won the World Series, but they're a bold look, too. These are actually currently on sale at MLB Shop if you want to rock the look yourself ($54.99).
#8: 1975-1979 Houston Astros
These are definitely some unique jerseys. At the time, a lot of people hated them, and I can understand where they may be coming from. They're wild. You either love 'em or hate 'em. I'm on the "love" side. The horizontal stripes, featuring the bright yellow, orange, and red, really make this jersey pop. Also, I love how the stripe look carries down to the pants. Cop a Nolan Ryan one at MLB Shop ($101.24).
#7: 1982-1986 Chicago White Sox Home
I had a tough decision between putting the Astros jersey or this one at #6, but ultimately decided on this one because it's more of a clean look. Really, both this jersey and the Astros jersey share some similarities, mainly in the sense that they carry the stripes into the pants. I don't know about you, but I could really see guys like Yoan Moncada and Luis Robert rocking these jerseys in a big playoff game in the near future ($54.99).
#6: 1998-2005 Arizona Diamondbacks Home
The Diamondbacks need to wear this jersey more in the coming seasons, no doubt about it. That teal and purple combo actually works so well, and the pinstripes just accentuate it even better. The star in the middle of the A is a nice little touch. You can get a Randy Johnson version of this one here.
#5: 1998-2000 Tampa Bay Devil Rays Home
You know a jersey must be good if OBJ is rocking it. To be honest, though, whether Odell was seen rocking it or not, I would think that this jersey is absolute fire. Throwing it back to the "Devil Rays" days, that blue to neon green gradient screams throwback, but this could just as easily be brought back as a current jersey for the team today. In fact, I think that Tampa could have a rebrand to something similar to these. I would definitely like to cop a Blake Snell one of these, but right now, all we've got is the no name version of this ($219.99).
#4: 1976-1994 St. Louis Cardinals Road
Here we begin to enter a new tier of throwback jerseys. From #4 to #1, we reach a new stratosphere of swag. You could argue for any of the top 4 jerseys at number 1, it's that close between them. Of course, as I said before, I love powder blue, and in this jersey, the red of the cardinal and of the stripes pops perfectly against it.
If you want a perfect color combination, this is it, and I would be rocking this Yadier Molina version all the time if I had one ($101.24).
#3: May 19, 1979 Philadelphia Phillies "Saturday Night Special"
These uniforms have a notorious reputation, having been worn a single time on a Saturday night in May of 1979. Why were they only worn a single time? The players hated them. And I mean absolutely hated them. In fact, OF Greg Luzinski told then-owner Ruly Carpenter that he would rather be traded then wear these again. Personally, I'm happy they wore them again this season, though, because I actually love it. McCutchen makes the most of it with that strut. We can't get the version of this with the zipper unfortunately, but you can still cop the jersey for yourself ($62.99).
#2: 1974-1975 Atlanta Braves Home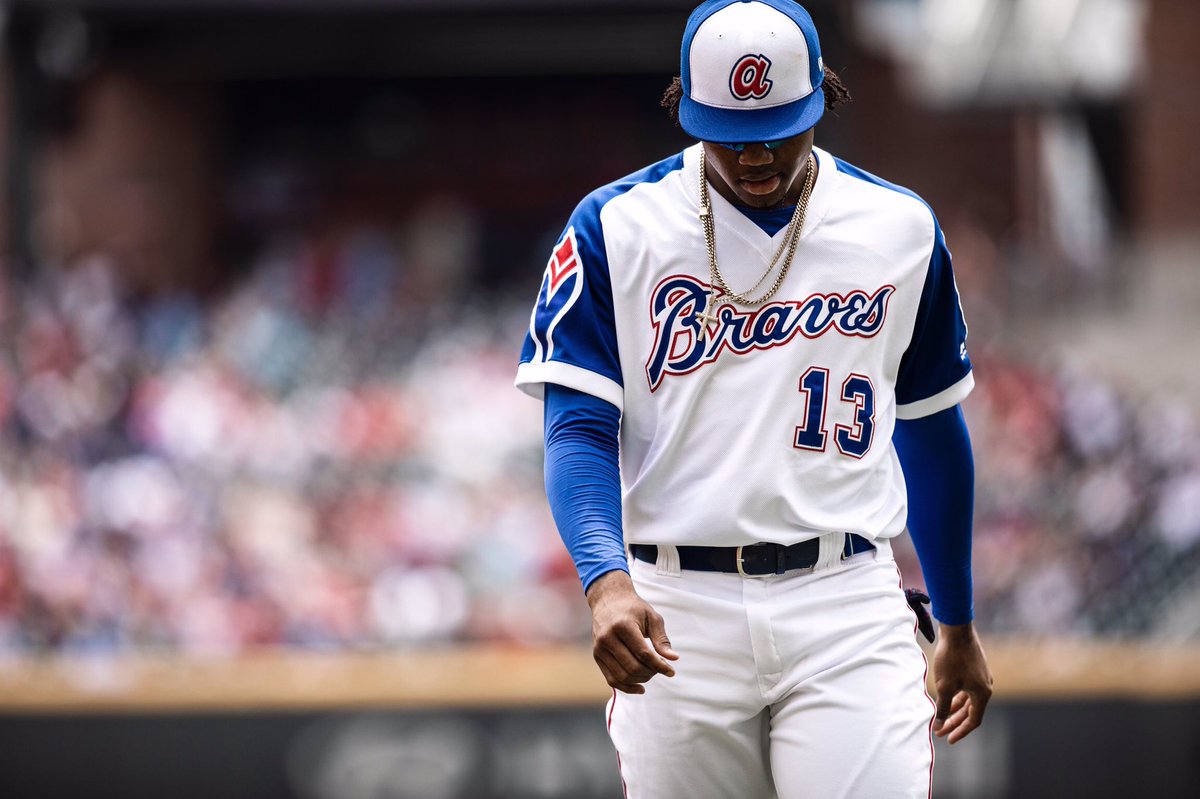 These jerseys are ridiculously clean. Atlanta should definitely wear them more. That blue and red color scheme works so well, and I can't even completely explain it, but the jersey just really flows. That script font, with the red outline, it's fantastic. And I know that technically the hats aren't supposed to be a part of this, but the hat just makes it even better. We couldn't find this one for sale (legitimately) but we're hoping the Braves smarten up and offer it soon at the MLB.com Braves shop.
#1: 1973-1988 Philadelphia Phillies Road
Without further ado, the best throwback jersey! With 2 Phillies throwbacks in the top 3, whoever was in charge of designing the uniforms for them in the '70s and '80s definitely knew what they were doing. The powder blue goes perfectly with the maroon, and I love the maroon and white stripes along the shoulders. Top it off with that huge "P" for the Phillies, and you got the best MLB throwback jersey out there ($69.99).
What do you think? What's your favorite throwback jersey? Let us know in the comments!